Here is Samsung's ad for the Oscars featuring Issa Rae and Constance Wu Comments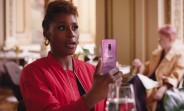 12619
1246
Well and now we know why S9 and S9+ which are equal as S7 and S7 plus apart from a different CPU and GPU where all other remains same. and a 700 eur difference between price of S7 now and S9 release price. Now we know why the phone cost so much.
Samsung is well known for an expensive advertising said in the comment.
Mi7 is good as S9 and cost 350 eur.
Shame on you shamesung. Rubber whip on you. Or guilotine thats much better.