YouTube will soon let you live stream directly from your phone's camera app Comments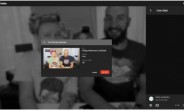 D
Already been done by Sony which flopped so I can see this flopping too
J
I'm just wondering.. the list said Asus, LG, Motorola, Nokia, and Samsung which are all Android manufacturers, so is this feature only going to be available on Android or in iOS as well?

On a side note, only iOS users can enjoy the black theme for youtube right now since it still is on "coming soon" state for Android.
?
this could be dangerous, we could be watching live scandals.