Google announces JBL Link Bar, a soundbar with Assistant and Android TV built-in Comments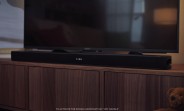 O
The sound quality is amazing and I have always been a big fan of JBL. The link bar delivers on all it claims
E
the JBL Bar delivers what it promises ! I am really impressed with the virtual surround sound and it's a perfect companion for a non-Atmos supportive TV
P
I understand from other articles that it will also pair with JBL wireless sub-woofers.

D
If its Android TV, you don't need a remote.

Use the Android TV remote app from the Play Store.

Full remote functionality and the ability to type in any text box by typing on your phone.
o
where will I can't buy this?
D
0:50 This is really good. When the wife is far from home ;)