Google Photos gets suggested actions, automatic black and white backgrounds Comments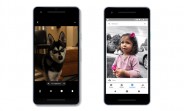 z878150
I love the app till I discovered that there is no option anymore for a automatic upload while charging. Though this feature has been removed a few months ago for some people, it is not long ago that I've had this feature removed too.

One annoying thing is that there is no option to limit upload bandwidth. This thing sucks all the slow bandwidth of our cheap broadband internet.

In the end, I stopped running this app in the background processes.
?
Gosh all these AI stuff. Humans will become dumber and dumber if we over-rely on these "suggestions" to do our tasks.