YouTube Kids app getting disabled automatically for those not in supported regions Comments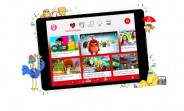 T
I live in Sweden with 2 Samsung tabs bought in UK. The old one about 5 years old still plays YouTube kids. But the new one bought this year has the problem above. How can I contact to as for a solution?
1499
411
Morons ... my kids use the "full" version, but the filtered version is just so nice to have.
What is the problem here? Why isn't this version available in all regions?
4127
5215
Google is Google. They will control everything that their apps are made by them.