Deal: Verizon Wear24 smartwatch is down to $49.99 again in possible clearance sale Comments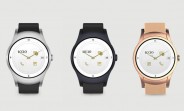 ?
Anonymous, 31 May 2018The seller has increased the price to 59.99$ after this article was posted.I think it was a memorial day sale cause I bought one in early May at $59.99 and added to the my watch item list cause I thought about picking another one up and got a message letting me know the price drop (which was the weekend of memorial day) so I picked another one up at the $49.99 price, which I noticed the priced returned to $59.99 after memorial day which is why I think it was just a holiday sale. Don't think it has anything to do with any articles being made about it.
?
The seller has increased the price to 59.99$ after this article was posted.
M
I got one of these for my Dad around Christmas last year. He was fascinated by my Moto 360 Sport, but neither one of us were convinced he would actually utilize everything it offered. This turned out to be the perfect watch to find out with. At $50 you don't feel bad if you decide a Wear OS smart watch isn't for you. If it does turn out to be your thing, it's a great hold over until you find the watch you really want. Sure it lacks a heart rate monitor, you can't replace the band, the back is plastic and the looks are definitely not anything special. But there really isn't anything you can complain about at this price.

Oh don't worry about the whole "must be a Verizon phone with Android" line in the specs. That only applies if you plan to add a line of service for the watch (why in god's name would you do that on a $50 watch is beyond me) or plan to use the pointless Verizon messaging app (disable all the Verizon stuff too). It worked as expected with his iPhone on AT&T and now his Honor 7x.