Titanium Grey Galaxy S9 and S9+ arrive in the UK exclusively at Carphone Warehouse on June 29 Comments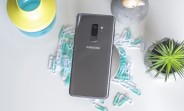 ?
Been waiting for this ever since release.

This colour ia top! Bit so far I saw only one s9 with it, and that was a 256GB variant at a whopping 960€.. lmao.


Hopefully they will release it for the rest of EU too in normal 64GB variant and reasonable price. If yes, then its a instabuy for me..

Been holding on this galaxy alpha for waaay to long.
4127
5215
I like this color though. But, Lilac purple nailed it. I hope they will discounted this color next month. :)
?
An already boring phone gets a even more boring color.. Looks like a phone that would be standard issue in an alternate future where communism ruled the world.
p
Handily just around HTC U12+ time. Pixel leaks recently around Apple WWDC.... Coincidence?
p
Exclusivity stinks. This is the best colour. Samsung should be trying to sell this everywhere, not the damned high street monopoly firm. The market needs more competition, not less.