512GB version of Samsung Galaxy Note9 gets more pre-orders than the 128GB one Comments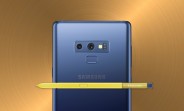 D
WHEN THIS SH*T WILL END?! I MEAN, PEOPLE SHOULD THINK WITH BRAIN AND NOT WITH SOCIAL STATUS.

If people keep buying this overpriced things just to show off like "oh, i have the latest and greatest" and keep paying too much brands will keep rising the prices since people buy them anyway.

So, stop buying overpriced phones and sooner or later we will see the price dropping, otherwise someday you pay the same for a phone as you pay for one car.

If people are gonna keep buying overpriced phones, then manufacturers are gonna keep increasing the price every year... Flagships used to cost $600 not too long ago, now it's $1000 territory... It's only going to get worse over time. :S
S
Of course, more is always better, right??
I wonder why RAM has to be a distinct advantage in storage option still. I mean, why can't they just make all models have either 6GB RAM or 8GB RAM??

And also, both Exynos and Snapdragon variants must be available worldwide; SoC to have should rather be a choice within the end user, as both have their distinct advantages and disadvantages.

Apart from the somehow weak camera quality and battery life not exactly meeting the standards of a 4000mAh battery size, this is the best as it could get. Sadly, it will be outdated by next year, due to the S10 being a massive upgrade and 5G becoming the next big thing.