Snapdragon 6150 appears in Geekbench, Mediatek shows off M70 5G modem Comments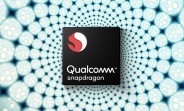 ?
both the companies are doing good work, though MediaTek became the first to launch a 5G modem
P3
Mediatek will also come up with the launch of chipset which will be 5G enabled!
367
522
This looks like the QSD 750.
A successor to the QSD 710, using leftover 7nm chips on the 2+6 design. However, it won't inherit the latest Adreno 640 GPU from the QSD 855 and have lower cache.

Not sure about clock speeds, though I would guess its probably 2.2GHz (A76) + 1.8GHz (A55). Seems like a nice upgrade for anyone coming from the QSD 636, not so much for anyone on the QSD 710, 835, 845. Though I doubt we will see this any/many devices, unfortunately.

t11728
Doesn't matter how good a soc is, if nobody makes any devices around it, which is a very common problem, folk want them, but makers don't want to pay the higher and higher cost for them, especially as last year's or even two yer old socs are still good enough for the majority of people's needs/wants..
k
this time we know it will start with 6xx. i think it will be successor to sd636 cpu because anything above 670 should destroy sd710
D
2019 is going to be filled with lot of excitement for mid range phone buyers.
With chipset like these the mid range segment will be just as powerful as last year flagship chipset.
Now we would like emmc to be replaced by ufs 2.0 or 2.1 for mid range segment. Because Samsung is going to launch UFS 3.0 and I hope every other phone manufacturers follows the same.
And USB Type C should replace the aging micro usb port with either specifications of USB 3.0 or 3.1 otherwise it won't make any sense by just upgrading to USB Type C with USB 2.0 speed.

S55593494
Shadocx, 06 Dec 2018This Snapdragon 6150 smells like a Snapdragon 675.Cortex A76 seems too fast to be just that powerful.
2500 means it's just the A75, and if memory serves right, it could potentially be a 7nm version of Snapdragon 710.
D12047
Huawei, as usual, has no match against that. They'll prolly rename Kirin 710 to match the name of new mud range segment king,raise up the clocks a bit and hope to confuse consumers.