Nokia 3.1 A for AT&T and Nokia 3.1 C for Cricket announced in the US Comments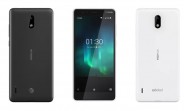 ?
It's a device with a comparable Snapdragon chipset, at a higher price than they can be bought in the EU, and with less support forcing the customer to come back and buy a new phone sooner.

You're better off importing the 3.1 from a store in the EU.