vivo iQOO Pro and iQOO Pro 5G get official with Snapdragon 855+, 44W fast charging Comments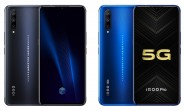 8358
667
naidu1973, 23 Aug 2019not interested in this phone because of its screen...FHD+... not at all competitive....should ... more2k and 4k screens eats battery iin few minutes complete waste on a 6 inch screen.
Like a human eyer can spot any differences between FHD and 2k and 4k in a 6 inch screen.
Not even humans with eyes sharp as eagle can spot a differences.
Remember Sony Z5 premium??? First 4k screen phone???
When screen was set to 4K battery died in 40 minutes from full to zero.
D
Awesome specs. Shame they'll never have the minimum LTE bands for the US.
1
ONLY bad news is, aliexpress and other chineese resellers which ship internationally, will charge us 100$ maybe even 150$ above these (very very good) amazing low prices for such specs
M164
6,41" - 4500 mAh??? How is it possible? I suppose it has a thickness of 9 mm or more.

EDIT: 158.77 x 75.73 x 9.325 mm. Ok, I hadn't read it...
L53031249
Thats an amazing price with amazing specs and possibly the cheapest 5G phone currently available
130
47
Now THIS is how you make an affordable 5G phone. On top of that, more battery, more power to the users and updated camera sensors. This is definitely one of the great value flagships although I would've preferred 6GB RAM as the base variant.
M336
Looks like the Gaming phone race is heating up. Hope more brands follow the trend so the price can be lowered further. Competition is great in keeping prices for gaming phones to the mid-range level if it comes down to it...