OnePlus 7 and 7 Pro are receiving OxygenOS 10.0.1 update based on Android 10 Comments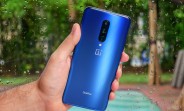 M18740
After returning my Mate 20 Pro due to only having March security patch and not even being able to make a Huawei account unless saying I am from the UK. I ended up getting the One Plus 7 Pro international version yesterday. Beautiful phone and I already got the update for Android 10.
?
My Oneplus 7 Pro already took 5 hours for updating, but still now its not completed! Its not restarting manually or cant stop! What should I do now? Can anyone help me???
P7
Looks like its not for everyone "yet"
Its been more than 10 days that the update has been announced in the forums and I am yet to receive it.
There isn't any schedule either on when will the devices get the update.
c7
I got the update for my one plus 7 pro in Sri Lanka today. Looking good so far.

1
No, it is not "for real now", it is again paused and only received by few.
a
when we will get update any idea ?

because still i dint get any update related to 10 os
j
AnonD-887044, 15 Oct 2019That's very quick.Quick and dirty? The update isn't running on Linux mainland kernel
M18740
IF I do decide t ok get the one plus 7 pro, I hope I get the update. Still debating on what I want to get.
M
Faster than Xiaomi, I didn't receive any single update in K20 pro in India, since I bought two months back.