Realme 5 gets Dark Mode and wide-angle video recording with the latest update Comments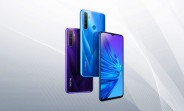 ?
I just bought this phone last Nov 14. anyone who did the update experience any bugs? I'm afraid to do it since the phone is working fine when I get it out from the box. I guess I'll wait for someone to confirm that update is stable before doing it. And that dark mode theme is it throughout the entire phone or just for selected apps only? Just curious.
S
Havent recieved it yet .
D
Realme is fantastic with updates unlike redmi.