Deal: iPhone XR is just $300 at Verizon ($300 off), with bonus $200 MasterCard too Comments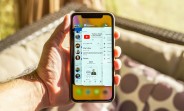 S5311
Don't fall for it. Their service suck and not worth it. Also, you can't leave verizon unless 6 months later or pay back the 200$.
B2927764
[deleted post]Maybe yes, but that's how things works today... Business...
B2927764
hercules07, 24 Jan 2020Says the xiaomi redmi user lolBut isn't it true?
h91
sanshiro, 24 Jan 2020Why should I give so much for old technology ?Says the xiaomi redmi user lol
S
300$ off but you pay 300$ in 2 years?! haha what deal is that? paying it in istalments? why not paying 0$ and pay all the value in instalments without having a subscription, potato deals wtf
N1589457
It's a great phone, if I'm honest the whole phone itself is just as fast as my other phone the $1299 12G note 10+. I have been switching between the two and I have realized how well the whole software and hardware work on the XR. In many ways the build quality is better than the Note 10+. It feels extremely solid and the seams aren't as visible. My Note 10+ looks as if it's piece together by 3 separate pieces. However the Liquid LCD is no comparison to my Note's AMOLED. Also the Intel LTE modems are noticably slower than the Qualcomm modem in the Note.
A26540
Within eight weeks? Lol
A7631
Seems like an amazing deal
ADVERTISEMENTS