Apple Maps just got a huge update with improved navigation, "Look Around", and "Collections" Comments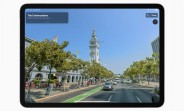 o
"Look around" the same feature called Street View on Google Maps...

"Collections" the same as Local Photos on Google Maps.

- Look who is copy who, just renaming, making their names to the featues, well, look who's behing again, and being late to the party?! ahahahah doing big again, just late to the party already.