Samsung refreshes "Over the Horizon" ringtone ahead of Galaxy S20 launch Comments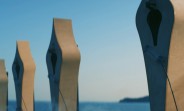 B
BigDisplay, 06 Feb 2020Okay:-) I'm happy for u guys then (Y). I was sarcastic, obviously it's useless news :)
B1833417
BreakingNews, 06 Feb 2020yes, it's breaking newsOkay:-)

I'm happy for u guys then (Y).
3165
1343
It remind me my W and S2 for the old days but I don't miss it at all...
It such a national anthem for a brand but with different music composing.
B
BigDisplay, 05 Feb 2020Wauvvv big news... Cmon really. yes, it's breaking news
B1833417
Wauvvv big news... Cmon really.
191
45
Sounds really nice, I like it! Although my favorite is last year's version, it sounds like an epic movie soundtrack
T
The best one, till today I believe is from GS III. It is really soothing to ears, and it is one of my favorite music theme.