Repairing the Galaxy Z Flip was an adventure and it wasn't even the screen that broke Comments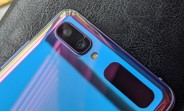 ?
Uncle Scrooge, 09 Mar 2020That's why you must go for the Samsung Galaxy S20 Ultra... ;-)I wish it was smaller...

Waiting for LG V60 now, and if something better than that comes up I get that.

(problem is, cheapest non-Ultra S20 is 1039 euro in my country, even the iPhone 11 is cheaper than that, the irony...)
S
You shouldn't worry, picture quality was pretty awful before repair and grease.
U
That's why you must go for the Samsung Galaxy S20 Ultra... ;-)