Apple imposes iPhone purchasing limit – you can only get two at a time Comments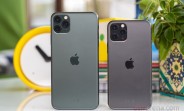 ?
Oh no I was planning on buying 5 next week
a
Thanks for the info. I hope there are ways around this restriction.
I don't like COVID-19, it has ruined my Apple buying experience.
Let's hope that scientists can help out.
?
Do people buy multiple iPhones at the same time? What's the point? It's not like you get the 2nd or the 3rd at a cheaper price.