Samsung Galaxy Tab A 8.4 (2020) affordable tablet with LTE debuts in the US Comments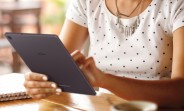 C
And I think it could fit a 6000 mah battery some of the phone with smaller screen have bigger battery. But otherwise seems still a good device.
K3
Hi,
8.4 inch is very decent size and should come out with Flagship Model and keyboard attachment option like s6 models
8
Anonymous, 26 Mar 2020I wish they would release a worthy successor for my aging Tab S 8.4.That's not going to happen because the new Tab S 8.4 is an entry level and the old one was a flagship sad story right?