Bose disproves conspiracy theories regarding reduced noise canceling performance with QC 35 II update Comments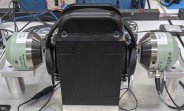 ?
Well, in fact, if you look at the report, Bose essentially compares the 4.5.2 firmware with 4.x.x firmware. Nice, BUT...
The problem was upgrading from 3.x.x to any of 4.x.x. so Bose statement is not reliable whatsoever (and I even do not own a QC355, I have a NC700, and the problem begins again with the firmware of this one also :-()
?
Anonymous, 08 Apr 2020Could you imagine any other company doing all that ? A Chinese one !?Yes
?
They are a dedicated Audio producer after all, so this is expected from them. Though in the matter of Audio, subjectivity is heavily involved - they managed to keep a good standard of how a good audio should be.
?
I like how an article about scientifically proven false statements has 5 comments ATM and two of those still claim the same.
?
Could you imagine any other company doing all that ?
A Chinese one !?
F
I just rolled back my firmware and boom my noise cancelling is 100 times better
S1
1.) Bose reduced the size of their earcups by 19% from the QC35 i and the QC35 ii. If ear cup size alone is responsible for some of thecomplants, then why have they themselves, reduced the size?

I recently purchased the smaller ear cups which they are selling for both models.

2). The noise cancelling on my QC 35 S1 was also affected. It was obvious the minute it occurred, and as many users have said, the difference between low and high cancellation was significantly less pronounced.

?
Hello Life, 08 Apr 2020Talk about insecurity and paranoiano insecurity , just clearing the rubbish conspiracy and nonsense and gaining customer confidence.
H761402
Talk about insecurity and paranoia