Qualcomm is partnering with BOE to produce flexible panels with 3D Sonic sensors Comments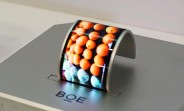 D
Adoogle, 16 Apr 2020Please accept my apologies for not having read your comment yet, though I shall in due course.... moreNah, most of my comments are really long, sometime I even exceed the character limits and need to post in two parts xD

But thanks that's highly appreciated, don't worry about not reading it, to summarize my comment :

Ultrasonic fingerprint scanner technology itself isn't to blame for how the "3D Sonic" performed and its flaws, it is probably the best possible and surely the most secure fingerprint scanning technology we can put of a mobile device, and its successor the "3D Sonic Max" (despite similar names, it is a serious upgrade) is highly impressive and promising with tons of great features !
A
AnonD-909757, 16 Apr 2020Wait, I stop you here and now... I perfectly realize you you may not be aware so I'll have to... morePlease accept my apologies for not having read your comment yet, though I shall in due course. I simply had to commend you on possibly the longest (and in all likelihood factually-rich and wholesome) comment posted on GSMare
A
Translation: things are going rough between Qualcomm and Samsung, over their ultrasonic FP implementation. Moreover BOE panels feature everywhere, as a cheap Samsung alternative, especially in cheaper Chinese flagships/normal phones. So if Qualcomm breaks ground with BOE, this can mean wider ultrasonic FP adoption, in cheaper phones. Which all in all, would be something I'd love to see.
D
Anonymous, 15 Apr 2020Even Samsung going to get ride of 3D ultra sonic fingerprint scanner due to security issue. Qu... moreWait, I stop you here and now...
I perfectly realize you you may not be aware so I'll have to inform you.

First, this is the "3D Sonic" not the "3D Ultra Sonic", and that's an important differentiation because there is another sensor who have a name really close to the original (which IMO is a mistake).

You should now that this ultrasonic fingerprint scanner is the first of its kind, and as same way other fingerprint scanner had issue on their first iteration (remember how slow and unreliable the first underdisplay FPS were, and compare with the lightning fast and quite good one in the OnePlus 7 family), but the scanner itself isn't really to blame, it is more about the code, and well, this is a way more complicated code than what is used for optical or capacitive FPS.

Most of the flaw are now fixed, and we can expect the next generation to come with a highly improved code from the beginning.

Another important part is not how this particular "3D Sonic" sensor is now, but what the tech of ultrasonic FPS can offer, and this is a seriously upgraded security, capacitive and optical (visible or IR) see in 3D and can be fooled by a 2D image, though it is harder with a capacitive, a rough augmented 2D (far from a perfect 3D reproduction of the finger) can be used to crack it, ultrasonic read in 3D, which is why they marketed it in the name, and this is a serious advantage, a squared fingerprint pattern who just have enough relief to contact and fool it, a real 3D scanner will see that.

But the MOST IMPORTANT PART, is, regardless how flawed/inefficient the "3D Sonic" is, it have a successor, the "3D Sonic Max", and despite the similar name, it is a totally different beast, it have been seriously improved and I am sure we can consider most of the flaws of the "3D Sonic" fixed, but it have a LOT more advantages than that :
*7 time larger scanning area, which is quite big, which is the first real step (outside of prototype too expensive for production) for fulldisplay underdisplay fingerprint scanners, it is really convenient as you don't need to aim precisely, it may seem not useful for the security, but it is.
*It have seriously upgraded precision and can read way more details which make it more secure already from RAW performance without taking in account the other things who also contribute.
*Since it read larger area, more of your finger can be read at once, making it able to basically gather more informations to compare to the registered one, making it also more secure.
*But one of the big new thing is the ability for this sensor, because of its larger size, to read 2 finger at once, seriously boosting the security here, as a single finger in 3D can be already hard enough to reproduce, but two is a different story.
*Since it use ultrasonic sound waves to work, they don't just bounce out of the finger, they penetrate, up to 5mm apparently, which is basically half of the finger's thickness, and that have multiples important benefits :
#It can see blood vessels and get your heartbeat, which on top of a convenient feature without requiring another sensor for that, can be a secondary security check, as it can verify that it is a 3D fingerprint with blood flowing over it, which is already hard enough to replicate, but it could also, theoretically gather data about your veins patterns, which would be crazy hard to get from someone to replicate it.
#Theoretically, the same way we can with seismometers know the composition of a body (cave, planet, the moon, etc) it could be possible to check that this is a density matching flesh, or at least the flesh of the user's finger, but also checking the density of the blood, making it way harder to fake that.
#Being able to go as far as 5mm, it could also theoretically get your bone (Distal Phalanx) which may be different enough from peoples to peoples in its details (not enough to use it as a standalone security checking) to add another level of security, making it even more secure.

Here is a good video showing how insane this 3D Sonic Max sensor is :
https://www.youtube.com/watch?v=JeTm5sd8ktg

I am not biased toward Qualcomm, any other equivalent to the 3D Sonic Max will get similar love from me, but the 3D Sonic Max is a SERIOUS contender for the next step in biometric identification, blaming the whole technology of ultrasonic based fingerprint scanner because the first one didn't worked as it should could only lead to potentially reducing this tech popularity, which, considering all that a properly working one have to offer, would be a huge mistake.
I blame Samsung for that, the 3D Sonic Max was available for the S20 lineup, and they could/should have switched from the previous, not so well performing to the seriously upgraded new one, because of this, this amazing tech suffer the misconception you showed that the tech itself is flawed, while it is actually by FAR the best solution, seriously, if the 3D Sonic Max work just properly (not even extraordinarily, just as planned), all brand should ditch capacitive and optical (including IR) fingerprint sensor for either the Qualcomm one or any other equivalent either in-house or from someone else !
All is now sadly in the hands of Samsung with the Note 20, hopping they make a good implementation of the 3D Sonic Max, even more important, hopping they don't stupidly keep the previous 3D Sonic, which would be disastrous, not for them, but for fingerprint based biometric security in the future.

Biometric is already too much on the edge of possibly disappearing, with many peoples hating for no real/justified reasons 3D Face scanning biometric solution.
And I am seriously convinced that the future isn't just fingerprint scanner or 3D facial recognition, but both on the same phone, being able to use either one or the other, but more importantly, when required, being able to secure things to the next level using both at once.
?
Even Samsung going to get ride of 3D ultra sonic fingerprint scanner due to security issue. Qualcomm better focus in different security method than the useless 3D ultra sonic.
B
Jamas, 15 Apr 2020Are Qualcomm going to make phones and TVs now Why not. Nothing wrong with that.
J
Are Qualcomm going to make phones and TVs now
?
Capacitive fingerprint is better