Lenovo Legion Phone will be all about horizontal experience, teaser reveals Comments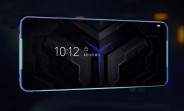 T
Either it's 16:9 (at most 16.5:9) or GTFO.
L
So when you use the phone to call, should it be held horizontally as well? Or maybe, to text and use for social media? Remember that a phone primary purpose is not for gaming, but what I've mentioned above.

I don't trust Lenovo after its failure with its Z6 Pro. Software is also a mess based from what I've heard from others. It's like buying Asus phones. There's just no quality control.

Mobile gaming has gone a bit too far. Nowadays most Indian and Asian k.ds play PUBG Mobile and things have gone wrong. And it's just a cash pit now.