Amazfit Ares announced, brings rugged design and up to 2 weeks of battery life Comments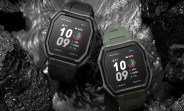 e
can it pair with an external hrm?
?
looks alot like a casio, alot of people will like this! bring it in gold ;)
?
What a waste of screen real estate. HUGE bezels are unnecessary and wasteful. They could have done so much but end up with so little.
S
Its just a beefed up Amezefit bip.. atleast the screen says it all..
G
lewein, 19 May 2020It has outer bezel and and inner one, look closely how small the screen is. Maybe I am a hater... moreSmall screen = better battery life and also less chances of getting cracking display.
?
Yes, it's an affordable rugged device. Surprisinly it keeps the Firstbeat metric this time. Interesting for people that not need route navigation. A lot better that bands with nice capabilities for the price.