Redmi continues to tease features of its Redmi X TV, this time the speakers Comments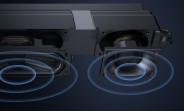 Y
Can that built-in sound system beat a dedicated audio system? If not, I'd rather see a TV that is cheaper and has no speakers at all.
D
"Redmi knows that"
Oh, really?!
"if the Redmi TV is priced, which we believe it will be"
Erm what? There's a possibility that it won't be priced and given away for free?! Wow!

Anyways, what the heck is a "8-unit subwoofer" supposed to mean? Did you maybe just copy-paste somebody's translation error?