Samsung Galaxy M01s certified by TUV Rheinland with a 3,900 mAh battery Comments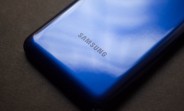 a
Ankit Gupta, 29 Jun 2020Don't think it's bad. MediaTek helio P22 is actually quite a good chipset in the budget segmen... moreIt doesn't work for a screen mirroring
A
Don't think it's bad. MediaTek helio P22 is actually quite a good chipset in the budget segment and Samsung did the right thing.
S661131
prikitiw, 27 Jun 2020Helio P22 on 2020? You're kidding Samsung🤣🤣🤣 At least helio G-series now became standart for ... moreVery low-end phones come with very low-end chips. Every cent matters, in these situations.

Frankly, it's a good chip, when you put things into perspective. Coupled with the 3 GB of RAM, it is more than capable of handling social media, YouTube, Netflix, news, e-mail, photos and even a bunch of games.
p233
Helio P22 on 2020? You're kidding Samsung🤣🤣🤣
At least helio G-series now became standart for mediatek SOC