Google Pixel 4a gets more certifications, 3,140 mAh battery and 18W charging confirmed Comments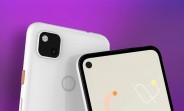 D
Hope The Pixel 5 will see a big jump in hardware quality, not like the Pixel 4, I was disappointed.

If it is $399, go find the Realme X2 Pro for better overall phone and download an GCAM.

Poco, please come back to the $300 dollar market! We miss your Legendary Product!
D
Sri-B4U, 02 Jul 2020$250 should be the honest pricing for this phone, anything more is not worth itNope, the $349 is honest, the price of the hardware certainly is below $250, but you don't know the price of the software tuning and the image processing.