Interview: Realme's Madhav Sheth talks 108MP camera, phones with notchless displays, and rapid product expansion Comments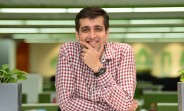 D
That's a great news, notchless/holeless display are way too rare, same for pop ups !
Every additional model with such feature is a giant step toward diversity and a less homogeneous smartphone industry that lack the ability to give choice for users with specific needs or desires !
R
First of all CKMKB. Second of all CKMKB again and on closing note, CKMKB.