Interview: Realme's Madhav Sheth talks 108MP camera, phones with notchless displays, and rapid product expansion Comments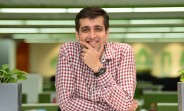 D
That's a great news, notchless/holeless display are way too rare, same for pop ups !
Every additional model with such feature is a giant step toward diversity and a less homogeneous smartphone industry that lack the ability to give choice for users with specific needs or desires !
R
First of all CKMKB. Second of all CKMKB again and on closing note, CKMKB.
?
No, I'm not happy about my punch hole, it's the worst thing I've had in any phone by now. Ok, you prioritize 5g, but you cannot say consumers arw happy about notches and punch holes, it's disrespectful and lame.