Another Samsung Galaxy Watch3 fully unboxed in Mystic Bronze ahead of launch event Comments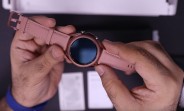 ?
HUGE bezels. My preference would be to eliminate the bezels to the bare minimum. It took a long time for smart phone designers to get rid of the bezels, or reduce them and value screen real estate more and this is especially true of smartwatches too because the real estate area is even smaller so ALL of it needs to be utilized effectively, not wasted with big bulky bezels. 46mm of screen is not much so use it ALL. As it is the writing/fonts are so small in most cases rendering them useless. Bezels, Bezels, Bezels....
673
340
Jahid37, 28 Jul 2020I'm digging this new Mystic Bronze colourStrangely, me too ! I hope there will ne a 46 mm version then, and that the price will not sky rocket, otherwise I'll keep my Watch ...