Canalys: Tablet market rises 26% as demand for bigger screens surges Comments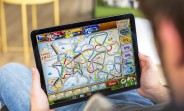 D
Bigger tablet displays? Bigger phone displays too? Where will this end??:)

This year we saw a 7,0" Black Shark 3 display and soon a Note 20 Ultra with a 6,9" display.

I'm all in big phone displays but where will it end?

I think this might mean that people will move to foldables to get that huge screen but still in a kind of smaller form factor..

Once the price on foldables decrease people will mass buy them. That's my own analysis though..