Oppo brings Reno4 Pro 5G Artist Limited Edition in collaboration with James Jean Comments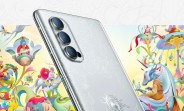 13478
1303
Looks marvelous shame its sold only in one country and nowhere in europe.
R
This is good. But please give android 10 update for oppo f11. We are still stuck with this old dumb features. And unable to download pubg.
1941
309
Sole Luna? Come on you're chinese, you don't use latin
?
More e-waste. Bout time BBK starts getting fined for creating so much cellular pollution.
M
This phone's name is so big that it won't fit in the gap between America and China.
P256123
Beautiful design but still the same mid range phone.