Oppo brings Reno4 Pro 5G Artist Limited Edition in collaboration with James Jean Comments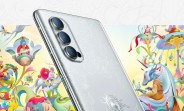 D
Looks marvelous shame its sold only in one country and nowhere in europe.
?
That trailer would also fit in a trailer for a Switch game😂
R
This is good. But please give android 10 update for oppo f11. We are still stuck with this old dumb features. And unable to download pubg.
?
This is what the OnePlus Nord should have been.
Sole Luna? Come on you're chinese, you don't use latin
?
More e-waste. Bout time BBK starts getting fined for creating so much cellular pollution.
M
This phone's name is so big that it won't fit in the gap between America and China.
P
Beautiful design but still the same mid range phone.