ZTE Axon 20 5G official render reveals front panel, selfie camera is nowhere to be seen Comments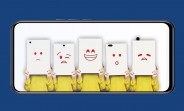 ?
might have secondary display
S
Before anyone complains about the chin, remember that it's still extremely expensive to make the display without a chin.
Only Apple, Samsung and Huawei managed to do it thanks to their deep pockets and premium pricing but unless the technology becomes cheaper, the likes of ZTE are still going to have a chin and you'll have to live with it if you don't want to spend $1000+ on your phone.
?
Yes, I get sad every time I see a cut out in the display, which is lots of times a day. I only like using phones that make me happy.