Tecno Spark Power 2 Air unveiled: 7" display, 6,000 mAh battery, coming to India next week Comments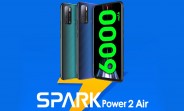 ?
I like it how much is it an how can i get it?
?
Were can i get dis spark power 2 air? de phone is super multivated.
H
Okay now 7 inch display is included in phone category. I remember few years ago, 7 inch was common among tablets.
A
Big screen, big battery and still quad-core processors? MediaTek gaming processors are really good to have in such smartphones.
R
Techno was caught having malware in India and Africa , which was stealing sensitive data from users.
R
Don't ever think about that if u want the phone for gaming. The processor Mtk A22 will make you trade-in your phone the next day.
?
Alex 94, 14 Sep 2020Weak soc couple with just 3gb of ram. There are much better choices.And most won't have that big of screen, not even close to that battery size, or stereo speakers.
This one chose different compromises.
?
chris1998, 14 Sep 2020Hmmm I don't know about that. Indians want everything In a phone and for it to only cost ... moreWell they sure shouldn't be costing what they do
D
chris1998, 14 Sep 2020Hmmm I don't know about that. Indians want everything In a phone and for it to only cost ... moreNope they all want those under 200 dollars lol
c
Hardware Hypervisor, 14 Sep 2020Finally, a phone Indians would not complain about. We always get free advertising on Xiaomi an... moreHmmm I don't know about that. Indians want everything In a phone and for it to only cost 500 dollars. SD865, sAmoled, 108mp camera. 12GB ram with 256GB storage. In display fingerprint sensor
Finally, a phone Indians would not complain about. We always get free advertising on Xiaomi and Realme here by Indians. Now expect free advertising on this brand also
ADVERTISEMENTS