Sony says that variable refresh rate feature for PlayStation 5 is in the works Comments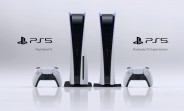 u569231
Great stuff, Sony has always been great with updates on their consoles. The hype is still very real!
O23134
A console like this that millions have been waiting for in anticipation should not lack that feature.
O
There was a time when games and hardware used to come out as a complete and ready to use product. Now a days, it's just update-as-you-go products with lootboxes, IAPs, paid-dlcs, feature-available-in-next-update and you name it. I wish the companies would at least sell products with the most required and expected features at launch.