OnePlus 8 series gets November patch and tons of bug fixes with the latest OxygenOS update Comments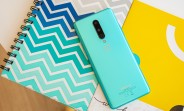 j
I have the verizon 8 and the rtt issue. Which one plus must be scrubbing from there forum because when I searched for "rtt" the were zero results. Then today it was "stuck" on bluetooth with no device connected? I am calling class action attorney's this morning. pleae join me.
F
So when will you fix the photochrom filter?? Its just useless in there... Its just like a filter thats exactly the same as no filter
A
4k video recording multiple modes and options are missing. 4k cine mode and hdr+ video recording not available in 8pro Mobile. Its deactivated in new and last 2 updates.
Movable subject error. Screen recording voice not capturing.
I think NextGen update will be cover everything.