Samsung's 2021 phones to drop support for older Galaxy Gear wearables Comments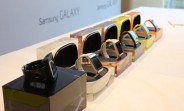 m
I wouldn't buy any Samsung Smartwatch anymore, because they advertise some functions which never arrive. i.e. Samsung Pay on Gear S3. After this long time, it's still not available in Germany, but in other countries it's already working. Why they need to test something which is already working in other places? This is garbage. Never buy something, which is advertised for, but not there when it's released.
a
Forced hardware upgrade?
I can understand not providing software upgrade for older devices. But how are new phones affecting the existing functionalities of older wearables? Surely, the older/existing apps still work on newer phones?
M
Interesting.. Support for over 7 years!