Google Stadia arrives in eight new countries just in time for Cyberpunk 2077 Comments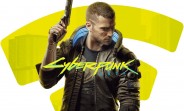 B
Ha ha ha, no wonder nobody cares about Google Stadia.
Easy, if you want to own games just go on Steam and buy them. There will be yours forever. If you just want to stream games, go on Game Pass (xcloud) or PS now.
?
Stadia is a rip off on so many levels. Completely outclassed by other games streaming services. Google also have a good track record when it comes to abandoning things that don't work, look at the 6 or so chat services they had.