Infinix Smart HD 2021 announced with Helio A20 SoC, 6.1" screen, and 5,000 mAh battery Comments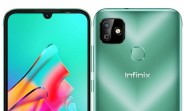 K
Anonymous, 22 Dec 2020What cheap chinese phone brand is this an even cheaper offshoot company? Infinix 7
S
Floxy, 17 Dec 2020No more infinix for me. I'm so done with them. Gone back Samsung. Why lol? Which was your phone & how exactly was your experience?
?
What cheap chinese phone brand is this an even cheaper offshoot company?

G
Yes Infinix you're getting it somehow right
6,1 inches with a huge 5,000 mAh battery that's a good start
P
LoLz, 17 Dec 2020Another stupid phone again..Hmm this one weak me oo
R
Their phones has a very low or no market value at all, maybe this will sell on the african market but not in asia or europe. Huawei, Xiaomi, realme, vivo and oppo dominated the asian market in terms of value for money phones, features are crap, performance are crap these kind of phones should be stop this will only cause global warming.
p
Read on some web sites some complaints about the camera and photo quality and problems with sound and os on Infinix phones.
S1007178
Its safe to say there's a sizeable market for a small, light & simple smartphone: size btw 5 to 5.5" display, under 150 gms for school kids or elderly (put in bag & gps track then n know where they are & safe), also serves as backup unit or home phone. Surely people who travel would like to have light weight back up ph!
To all the great, smart thinking manufacturers, When is it coming??
ADVERTISEMENTS