Sony is developing another camera sensor with Oppo, this time for the Find X3 series Comments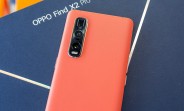 ?
"48 MP with a Quad Bayer filter"
That's wrong. Quad Bayer means that a group of four pixels has the same color and that each pixel has its own microlens. When it comes to the Imx 689, not every pixel has its own microlens. 4 pixels share the same microlens. Therefore 48 megapixels is wrong and just marketing. The Imx 689 is a 12 Megapixel Quad Pixel sensor, not a Quad Bayer sensor. It's as if you would suddenly change the name of 12 megapixel Dual Pixel sensors to 24 megapixel Dual Bayer sensors with one microlens per pixel pair. Both names would mean exactly the same thing. Yes, Apple, Google, etc use pixel binning in order to produce 12 megapixel photos. 12 megapixel dual pixel sensors can output 24 megapixel photos, but due to the microlenses there would be no advantage.
S326
Even bigger question is will the OnePlus 9 Pro get it?