Sony's 2021 Bravia TVs come with HDMI 2.1, Google TV and Cognitive Processor XR Comments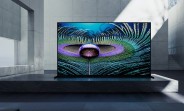 ?
Oppaii, 08 Jan 2021Sony needs to put up their marketing with their Bravias. Their TVs are much better than LGs or... moreThey do not advertise their stuff on their own TV channel.
PS was the only product I have seen an ad on tv.

?
Oppaii, 08 Jan 2021Sony needs to put up their marketing with their Bravias. Their TVs are much better than LGs or... moresony tv dont worth compared to samsung lg sony use samsung LG panels Philips has better tv than sony ha brainwashed customers