vivo Y20G announced with Helio G80, triple camera, and 5,000 mAh battery Comments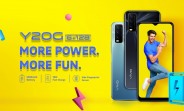 D959347
I was wondering what happened to vivo z series the Z1 pro was one of the best midrange phone at that time
215
52
Screen size: ✓
Notch: ❌
Macro and Depth Cameras: ❌
Chip: ❌
Charging: ✓
Price: ❌
Chin: ❌
Screen resolution: ❌
Verdict: EPIC FAIL
W
Seem like vivo have hoarding micro usb and 2mp camera from all distributor. I think its enough to make vivo y20 series from a to z.
b45541
Vivo's entry level releases are playing catch up to Poco/Redmi. They are stuck on micro usb still. Every week there's a new vivo phone lol. C'mon Vivo, do better and price it right.
b45541
Anonymous, 19 Jan 2021MicroUSB in 2021 and $205 lolYep, that's vivo.
?
>MicroUSB
>clown depth/macro sensors
>HD screen
>Helio G80
>200$ pricetag

are they seriously expecting anyone to buy this over Poco X3/M3 or is it supposed to be some sort of joke?
D959347
Micro usb
Hd+ @60hz
Useless 2mp cameras
Boring design

?
Poco x3, Redmi note 9 pro max, Sammy f41, Realme 7 n many more guys:- Are we joke to you?
ADVERTISEMENTS