Next Android Wear version to feature new single tap gesture and watch to watch messages
Industry sources have revealed some of Google's plans for the future of Android Wear. As most of you surely remember, version 5.1.1 of the wearable OS came out fairly recently and brought about quite a few new gestures and a much-needed rethinking of the main control scheme and menu arrangement. According to some new info, the next iteration promises even more advanced functionality.
One of the main features, said to be in the works is a new single tap gesture, intended for interactive functionality on watch faces. Android Wear users have always been able to bring up the launcher with a single tap on the screen. While that is undoubtedly convenient, is seems that developers have been experimenting with other uses for the single tap, which Google is now picking up on. Currently, there are a few Wear apps in the Play Store that overwrite the aforementioned default behavior and implement some quick toggles or shortcuts, to be activated with a single press.
Apparently the idea has its appeal and has prompted Google to integrate the behavior straight into the OS, so developers won't have to rely on undocumented tricks and hidden buttons to get the effect they desire. This new control scheme might have already been in planning for some time now, since the last Android Wear update made the launcher accessible through a swipe from right to left. Essentially freeing up the single tap. And of course, there is always the familiar "OK Google" voice trigger.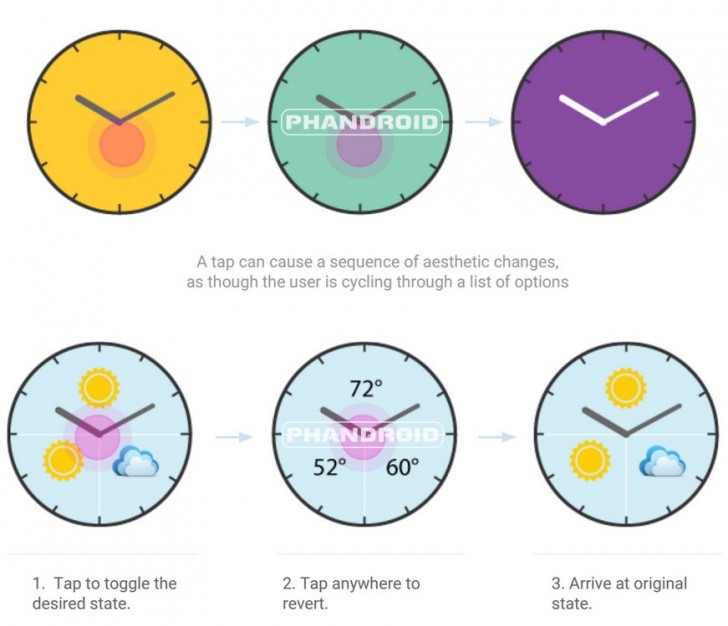 A few leaked pictures provide examples as to what the new single tap gesture can be used for. They include cycling through variants of a watch face and changing up some of its aesthetics. Also, toggling a whole other state on an off. The new control scheme also opens up the possibility to interact with shortcuts on the watch face itself - bringing up more detail, or simply launching an app.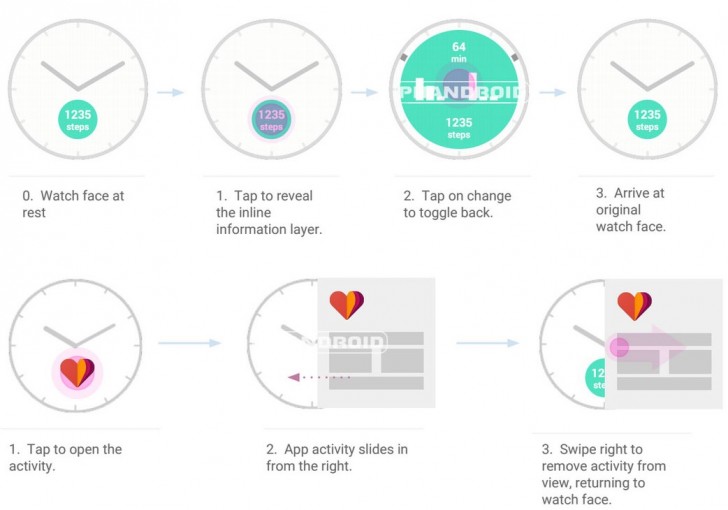 Watch to watch messages is said to be another new feature coming to Android Wear. Apple Watch users already have to possibility to send doodles to one another and Google doesn't want to lack too far behind. The feature is called Together and should allow Wear users to send each other messages, photos, emojis, stickers and also doodles. The following code gives some info on the new feature.
Oddly enough, however, the above snippet is said to come from a single watch face, rather than system-wide code. So, it could turn out to be restricted to a particular watch interface, which is kind of counter-intuitive. In any case, this info is preliminary and while it sounds credible enough, largely unconfirmed and subject to change.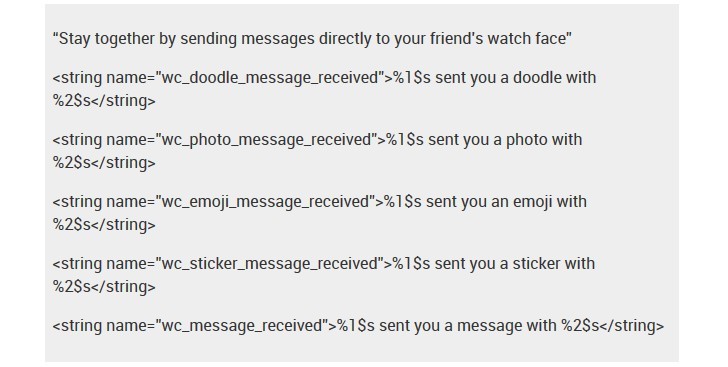 Last, but not least, the next Android Wear update is said to finally put an end to the LG G Watch R Wi-Fi drama and enable the feature. We hope to find more information on the future of Android Wear soon and learn more about the upcoming features, prior to the software rollout, which was initially set for July 28, but will likely be postponed for August.
?
I want buy once to wearing and use...
A
hello, Wat is The Brand's Name,! and I admired the beautiful hours,but Where can we ! buy it.