The iPhone 6 isn't having the rumormill all for itself, as today the Chinese media has published reports for the upcoming iPad Mini 3 and a 12.9" iPad.
As per the reports, the upcoming iPad Mini is going to be 30% thinner than its predecessor. Because of this, Apple is allegedly going to call the tablet iPad Mini Air. Additionally, the next iPad Mini is going to feature the Apple A8 processor, manufactured by TSMC.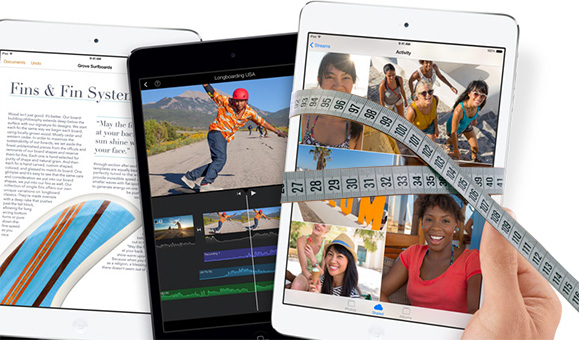 The current iPad Mini 2 measures 7.5mm, so a 30% thinner iPad Mini 3, if the rumors are true, is going to be just 5.25mm thin. The current thinnest tablet below 10.1" in the market is the Samsung Galaxy Tab S 8.4, which measures 6.6 mm.
The 12.9" Apple iPad wouldn't be released before 2015, according to the reports. Analysts in the beginning of this year also expressed a prognosis for an 12.9" Apple tablet dubbed iPad Pro. David Hsieh (VP of the Greater China Market at DisplaySearch) says that Apple's tablet shipments for 2014 would remain unchanged compared to last year, because of a stagnation caused by the march of the whitebox tablets.
In less than 9 hours, Apple is going to have its Q3 earnings call and we'll see how its tablet line-up is doing.
C
Apple allows the leaks and I'm sure encourages the leaks. It builds up chatter and anticipation for their products.
C
Android lagware may be able to split screen, but you're still splitting the screen of crappy apps. iOS Still has the very vest selection of Tablet apps, and many tablet apps that you can't even find in Android. This make the iPad more cap...
m
because people like flock on places like these to get a scoop