Next iPhone will have USB-C cable, but on the other end of the cable
After spurring about fifty think pieces and sending everyone in the Apple community in a tizzy over the radical notion of Apple supporting an open standard, turns out the next iPhone won't have a USB-C connector after all.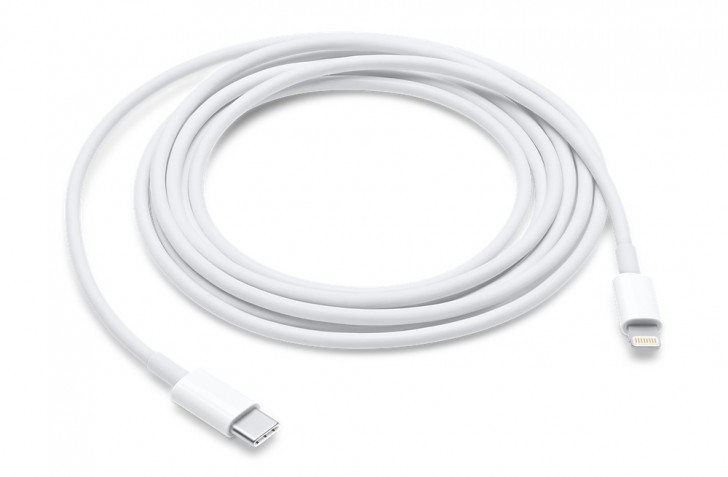 According to KGI Securities analyst Ming-Chi Kuo, the new iPhones will retain the Lightning connector on the device side but make use of USB-C Power Delivery specification for charging. This means the other end of the charging cable is the one that will have a USB-C connector, the one that plugs into the charger.
This has two advantages. First, USB-C can carry much more power than standard USB-A. It's the same reason Google provides end-to-end USB-C cables to enable fast charging on its devices (and not just to spite you). Future iPhone chargers will then have a USB-C connector like the new MacBook/MacBook Pro chargers or the Google Pixel charger.
Second, the iPhone could then be plugged straight into the company's new MacBooks without the need for an adapter. Sure, you'd then need an adapter for practically every other computer but I'm sure Apple will be happy to sell you an adapter for that.
To be clear, this is not new. The 12.9-inch iPad Pro already supports fast charging when you use the optional Apple USB-C to Lightning cable and plug it into one of the Apple 29W, 61W, or 87W USB-C Power Adapter. So far this has been the only iOS device to support fast charging but clearly we are going to see this feature coming to more iOS devices this year.
Kuo is a reliable source but again at this point it's still a rumour. However, it seems far, far more likely than Apple putting a USB-C connector on one of its iOS devices. That rumor seemed outlandish to begin with and in the light of this rumor seems even more unlikely.
?
He is not lying. iPhone 6 had a version of fast charging, when using the iPad charger. It was not the same as Android side or standard fast charging. https://www.macrumors.com/2014/09/22/iphone-6-and-6-plus-charging/
C
Is this a story about how apple actually created something standard? The dream they have since ever so that they can make money out of nothing a port can be by patenting it? Nope my friend. Usb type C is the product of Usb port inventors them selves....
c
Who hate Apple? We love apple. Dont you think why, what behind this, why now they go for iUSB-C? iThink that is business act and will gain profit, that we (Apple lover) call iInnovation. iBelieve it will sell and top sell. iPhone dont have fast ...
ADVERTISEMENT