Next year's iPhone will use a 4nm chipset, the iPad Pros will get more advanced 3nm chips
The current Apple A14 and M1 chipsets are both fabbed on the same 5nm TSMC node, but the two product lines are set to diverge next year – the iPhone 14 chipset will be manufactured on a 4nm node, while the next major M-series chip release will be based on the more advanced 3 nm node, according to Nikkei Asia.
For context, let's look at what is coming later this year. The A15 chipset for the iPhone 13 is being manufactured on the revamped N5P node at TSMC, which offers a 5% increase in clock speed or a 10% reduction in power compared to N5. The M1X is also expected to use N5P. Apple will unveil the iPhone 13 later this year, new MacBook Pros are on track for a September launch too.
TSMC managed to finish development of the 4nm (N4) process ahead of schedule and MediaTek will be the first to release a 4nm chipset either at the end of this year or in early 2022. In the later half of 2022 much of the manufacturing capacity will be focused on chips for the iPhone 14. The performance benefits of N4 are still to be announced.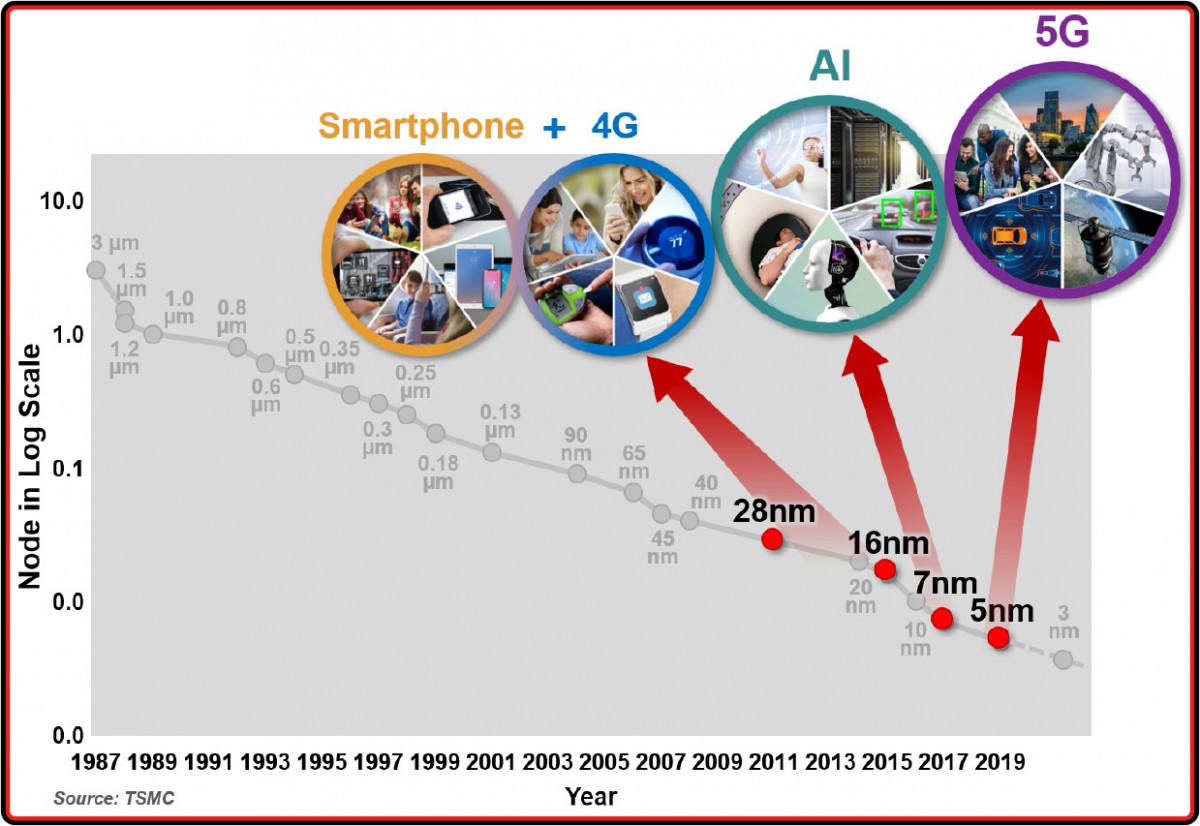 The 3nm (N3) node is where things start to get interesting, however. TSMC has already signed on two major clients – Apple and Intel.
The first devices with 3nm chips to hit the market will probably be iPads, according to insiders. Presumably, this means new iPad Pros with new M2 chipsets.
Intel has reportedly ordered laptop and server chips to be built on the 3nm node and has even secured a higher volume than Apple. Intel's foundries have been struggling for years with its 10nm node, which also delayed its future nodes too, the 7nm one isn't expected until 2023. This lead the tech giant to outsource part of its chip production to TSMC.
Compared to the current N5 node, N3 is expected to offer a 10-15% increase in performance or 25-30% reduction in power usage.
Interestingly, Nvidia is moving into the server CPU business using the ARM architecture. The first chip (Grace) is coming in 2023 and will use TSMC's current 5 nm node (which should be cheap by then and with a high yield rate). The company also has a 5 nm GPU (Hopper) in the works as well
?
Older gen is different from new gen.
?
From s21 Samsung has a aggressive throttle with the temperature especially for exynos older gens get pretty hot into the 60s they is a battery limit of 50c but the hardware would be well above 60 when that's reached
?
Lol you do realize there's a TapTap version for that game? Cmon don't be so naive.
ADVERTISEMENT