Around a month ago, the cloud-focused Nextbit Robin smartphone was going for $120 in the US. And now, the price has dropped even further. An eBay retailer (buyspry) is currently offering the phone for $109.99.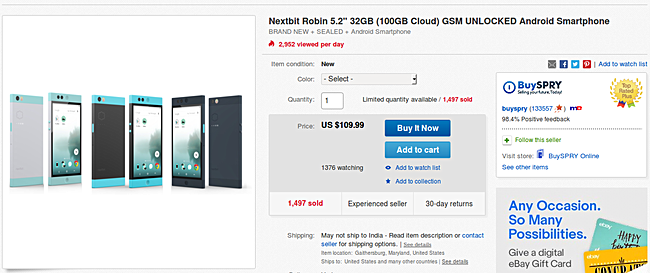 The unit on offer is unlocked and available in mint and midnight colors. As is usually the case, the listing says limited quantities are available, but doesn't reveal when the deal ends.
Keep in mind that Nextbit has been acquired by Razor, and official sales of the phone and its accessories have stopped. The company doesn't even honor warranties anymore.
For those interested in availing the deal, head to the Source link below for more information.
?
Unlimited data plans aren't expensive anymore.
?
I think the price is fair given that you are paying for the hardware performance only, not its quality or software support, it's end of life. (I've watched as several reviews a few weeks ago since i had already spotted its low price).
?
You can also disable cloud synch service, so you can use it as any normal smartphone.