Nextbit Robin, the Kickstarter darling, is now ready to receive its first taste of Android 7.0 Nougat. This comes in the form of a beta build, which is being sent out to certain people who own the Robin and have registered using this online form. That registration avenue is still open, so you can enter your details there if you haven't already. Just note that if you "have modded your phone in any way, it is not recommended that you update", Nextbit says.
The beta Nougat release comes in at around 1GB, has the August 5 security patch level, and a build number of "Robin_Nougat_25", as you can see from the screenshots below.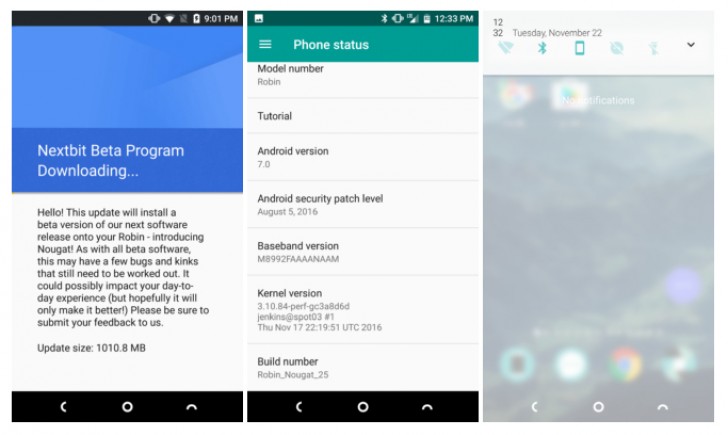 Inside you'll find everything that Google's packed into Android 7.0, of course. However, as with all non-final software updates, keep in mind that bugs are inevitable and may in fact negatively impact your day-to-day use of the device.
To bring Nougat to the Robin, Nextbit worked closely with the developers behind the very popular Paranoid Android custom ROM, "exchanging ideas, code, and resources" which helped move the process along quicker. This has reportedly resulted in a smooth Nougat build - the phone should feel faster and it will apparently perform better than ever before.
?
Is this available in PH? I want one and why is there no specs for this phone here?
J
Nice work nextbit keep up the work and count me in for next mobile
D
Awesome :) love u nextbit :)