The Google Nexus 4 is one of the most affordable high-end smartphones around with its $349 price tag in the US. In Europe, however, things are different, as Carphone warehouse is listing the latest Nexus phone for the hefty £390.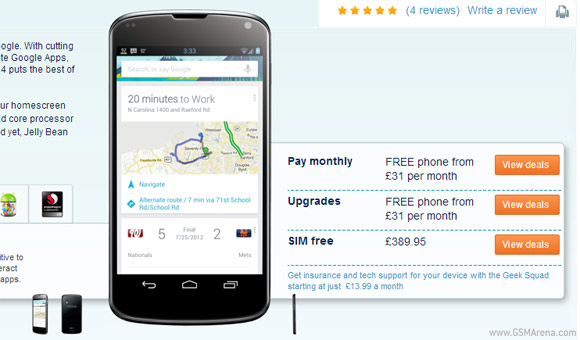 This is £110 more than the listed £279 price in the UK Play Store. The reason for this is the pricing outside of Google's Play Store for the Nexus 4 comes from LG. The Koreans are the ones that sell the device to smartphone retailers and as a result the price is higher.
Currently, most of the Nexus devices are sold out in the Play Store, so if you just can't wait any longer, retailers like Carphone warehouse are the obvious, albeit pricier choice.
Thanks for the tip, Andy!
G
I still wonder. how many Nexus 4 google sold?!!!
D
Irish people can't buy it from Play :(
p
'like' hahahahahahahahahahahahaha
ADVERTISEMENTS