At the beginning of this year Jolla made the Nexus 4 a second home for its Sailfish OS and it has been keeping it up to date. The latest is the Saapunki update coming just two weeks after it hit Jolla's own phone.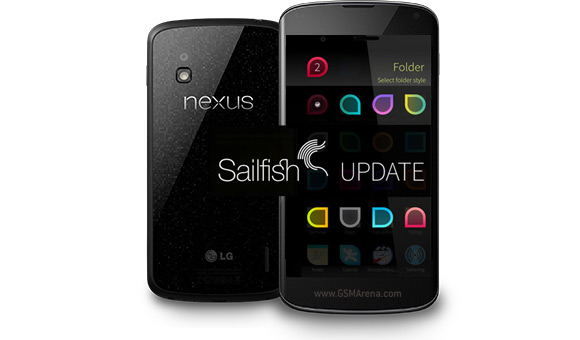 The update brings a number of improvements to the UI and connectivity, but the Nexus 4 update also includes an experimental version of the Jolla store.
You'll need a Jolla account to download apps from the store and, true to Jolla nature, the new software keeps the pre-installed apps to a bare minimum - the rest you can pick and download yourself. This is part of the Jolla philosophy – no bloatware, no forcing apps on the user, let people chose for themselves.
Again this is an experimental release and there are a number of issues. The biggest is that Android apps are not actually supported – an Android-powered Nexus 4 can run them, a Sailfish OS-running Jolla phone can run them, but not a Sailfish OS-running Nexus 4. Eventually Android apps will be hidden from the store.
Also, using the same Jolla account on a Nexus 4 and other devices might break some apps. Starting the phone with no SIM card may result in an incorrect reading of the IMEI, so the phone may be detected as a new device.
If during the first launch after you update the Nexus 4 with Saapunki the backlight doesn't come on, uncheck the Adjust automatically option in the screen settings as the ambient light sensor isn't supported yet. Locking the screen causes Wi-Fi to go into the lowest speed state, which may lead to slower chat notifications.
After listing present and potential issues, here's what the Saapunki update actually brings:
Extended 4G support
Facebook notification sub-page
Folder support in launch area
Better sync options
Updated browser with full-screen support for HTML5 content
Support for SIM applications
New Bluetooth profiles
Customizable lockscreen shortcuts
The procedure of installing Sailfish OS on a Nexus 4 is rather involved. You'll need the sailfishos-mako-release-1.0.7.16-EA3.zip file (248MB) plus a number of tools and additional files. The step-by-step process is described at the Jolla Blog.
Source
L
Can any one explain me what exactly JOLLA is? I am unaware about it.
A
There was a picture of N5 then they fixed it, that is why.
D
It does not matter in the n4s case...