The next Google Nexus device has been shrouded in mystery and as far as we currently know, there will be a duo of handsets later this year - one from Huawei and the other courtesy of LG. We haven't really heard anything about the specs of those yet but a leaked benchmark score might finally shed some more light on their hardware.
The said score allegedly comes from AnTuTu 5 on the LG handset. There are a few things on the screenshot worth noting, but first let's address the elephant in the room. A score of 85530 is ridiculously high.
That is a good 20000 points above the current Samsung Galaxy flagship duo and their Exynos 7420, which is currently the top performer in the mobile realm. This suggests that LG is using a next-gen chip for the Nexus - most probably the Qualcomm Snapdragon 820.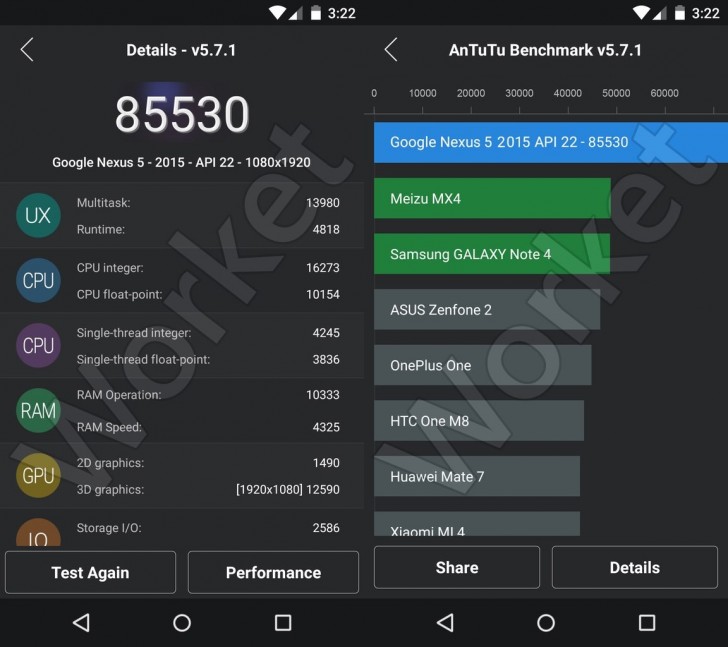 Also, judging from the alleged score card, the device will once again be named the Nexus 5, well probably Nexus 5 (2015) to avoid confusion. Apparently, LG has decided to abandon the whole incremental naming approach, as was with the Nexus 4 and Nexus 5, which could indicate that the next phone will also have close to 5.0-inches of screen real estate. This will surely be a welcome sight for a lot of Android purists that simply found the 5.96-inch Nexus 6 too large.
Last but not least, AnTuTu has detected the Nexus 5 (2015) as a Full HD device. This is kind of odd, considering the current Nexus boasts 1440 x 2560 pixels. Perhaps Google thought QHD would be an overkill on the smaller screen of the new Nexus 5.
u
FUP stands for Fair Usage Policy . Most high speed unlimited connections provide high speeds only up to a certain data limit after which their speed drastically reduces. This limit is known as FUP
D
Bigger CPU, RAM, Storage, DPI, CAM, GPU,... For better VR experience (google cardboard)
?
Waiting Nexus 6 with higher spec and screen lager more.. I am waiting and hope nexus 6 has RAM 4G and camera 20Mp and battery bigger. Nexus 6 will become best phone using anđroid platform. newest android software and more news point i never seen othe...
ADVERTISEMENTS