Silly Nexus 5, you're not supposed to be out yet. Yet it is – Dutch online retailer Belsimpel has put up the yet-unannounced Google phone on sale already. The SIM-free is a hefty €460 but then Nexus devices are usually quite expensive when you don't get them from the Play Store.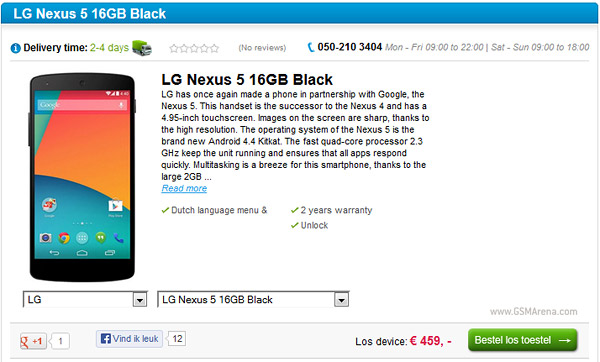 The phone is also available on contract with Tele2 for €36 a month, Hi HS Student Medium for €35 a month and T-Mobile for €47 a month. That's for a 2-year contract with a free device with 16GB storage.
Both Black and White versions are available and the site promises to deliver the phone in 2-4 days. Keep in mind that this may have been posted prematurely so the Nexus 5 might not actually ship next week, but the prices should be accurate.
The site also lists the Nexus 5 specs in case there were any uncertainties left – 131 x 86 x 9 mm body (this could be a typo, 86mm is too wide, 68mm is the same as Nexus 4), 5" 1080p screen, Snapdragon 800 running Android 4.4, 8MP / 1080p main camera, 1.3MP front-facing camera, Wi-Fi 802.11ac, 2,300mAh battery with wireless charging.
Update: Yep, it was a mistake. Belsimpel has taken down the offers for the Nexus 5 (the page can still be viewed though, there's some info on it).
Thanks to everyone who sent this in!
Source (in Dutch)
D
By the looks of it...people will start using it before it is announced :-)...then they will post a photo of sundar pichai along with their unboxing videos on youtube..(i can sleep well tonight)..
C
I don't think that's correct. Both have the top SoC at their release time. Both lack more storage. Nexus 4's top storage option was 16 and lacked LTE, which most flagships had.
?
If you don't have a phone, may better to buy one now. If not, why not wait for another few days ?